eBooks and Audiobooks
OverDrive eBooks
With OverDrive, you can get something to read or listen to even if the Winsted Library isn't open.
Borrow up to 5 items, then set your own due date (choose from 7, 14, or 21 days), and best of all, they'll automatically be removed from your device, so you'll never have to worry about getting them turned in on time!
---
---
Powerspeak Languages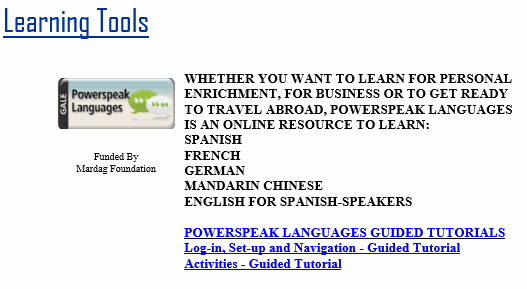 ¡Hola! Bonjour! Hallo! Nín hǎo!
Do you want to learn or get better at speaking another language? We can help!
The Pioneerland Library System (Winsted is a member library) offers the Powerspeak Languages program FREE to all PLS cardholders. You can learn Spanish, French, German, Mandarin, and English (ESL) at your own pace.
To get started, either click on the picture above, or visit the PLS online catalog page at http://www.pioneerland.lib.mn.us/catalogs.htm , then scroll down until you see the Powerspeak Languages button under Learning Tools. You'll be asked to sign in with your PLS library card number, and then you'll be able to choose which language to learn. It's as easy as that!
---
---
2016 McLeod County Libraries
Presentation to the McLeod County Commissioners
---
---