It's October, and you know what that means… 
BOOKTOBERFEST IS HERE!
Due to COVID19, there won't be any in-person events, but that won't stop us from celebrating Booktoberfest!


Have you always wanted to join a book club, but you just don't have the time?
You're in luck with the Winsted Library's Annual
Booktoberfest World's Easiest Bookclub!
Choose between An Unwanted Guest by Shari Lapena, The Broken Girls by Simone St. James, or One of Us is Lying by Karen McManus. Read as many as you want, then come into the library to put a sticker by y

our rating. It's just that easy.



 No meetings, no discussion, no hassle. 
Come grab free books, movies, and audiobooks from our Free Stuff carts on Fridays* during the month of October–
it's a great way to add to your home library!
(*The book carts will not be out on Friday, October 30th during the Winsted Business Trick or Treat)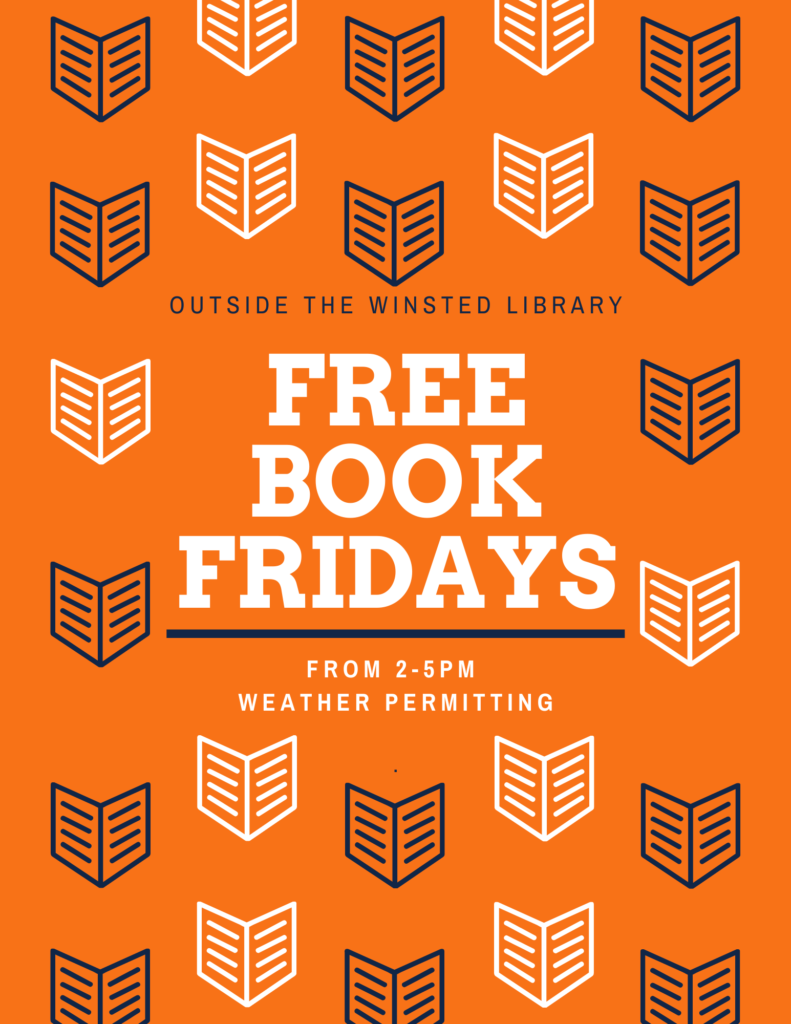 We're excited to offer a cool Walking Workshop by Jen Anfinson this October.
It's a take-home leather bracelet making kit, with how-to videos available on Jen's Facebook and YouTube Channel.
Kits will be available starting Monday, October 19th. We have 20 kits available, first come, first serve.
(*Registration is needed for this program. You can call the Winsted Library at 320-485-3909, or stop by during regular library hours.)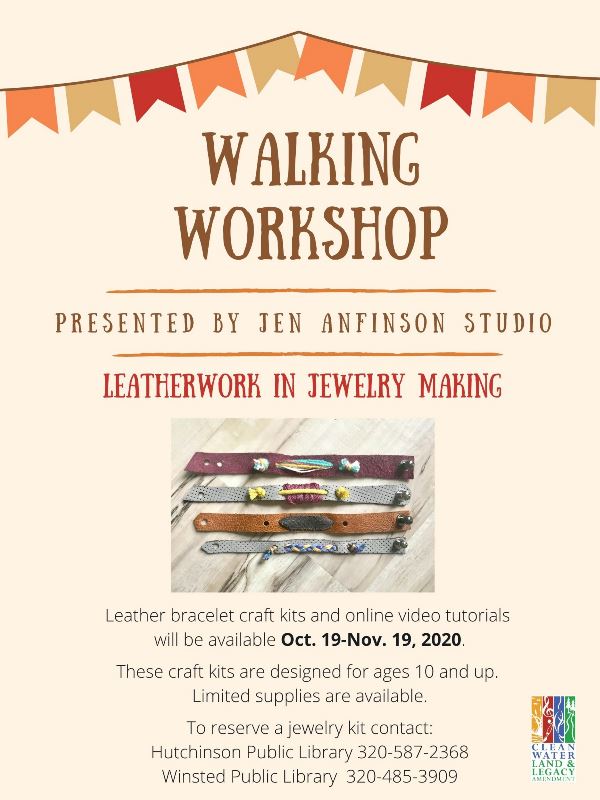 Minnesota Researcher, author, and investigator Chad Lewis Digital Program
Researcher, author, and investigator Chad Lewis invites guests to put on their zoot suits and follow in the footsteps of America's most infamous gangsters as they turn Minnesota into their personal crime vacation land. Filled with deadly bank robberies, explosive shootouts, brutal murders, and daring kidnappings, this presentation lets the audience discover the grisly locations where the gangster history will never die.
Lewis, who is the author of more than a dozen books, has spent the last 20 plus years traveling the globe in search of unique and bizarre stories and history. The Minnesota's Gangster Past: Land of 10,000 Crimes is one of several programs he presents to libraries across the Midwest.
The program will be able to be accessed from Monday, October 26th-Sunday, November 1st. 
(*Registration is needed for this free program. Please email Katy Hiltner , or call the Hutchinson Library at 320-587-2368 to get signed up.)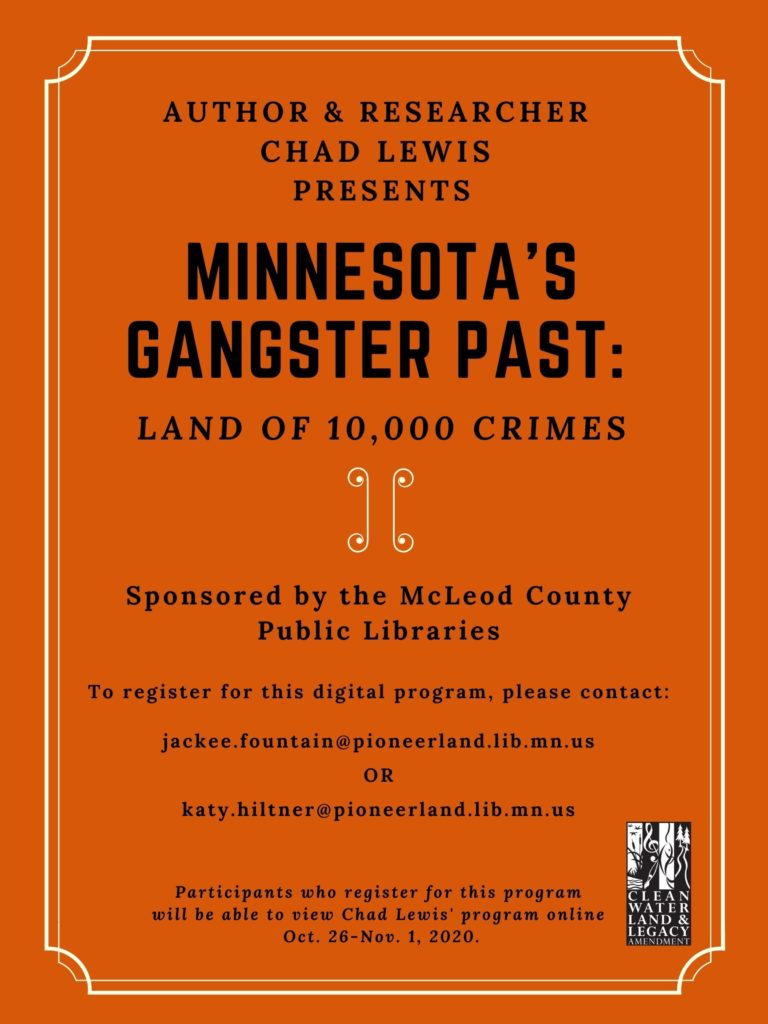 Join
one of our Booktoberfest alums
Minnesota author Christine Husom
for an online author panel on Tuesday, October 27th from 7-8pm. 
Paranormal fiction is more popular today than ever before. Our authors present an intriguing exploration of paranormal elements and their influence on today's modern crime fiction.
Featuring 
Natalie Fowler (author, paranormal investigator, and psychic medium); 
Christine Husom (national best-selling author); and 
Rob Jung (#1 best-selling author).
Panel moderated by Timya Owen (author and editor).
(*Registration is needed for this free program. Go to www.crowdcast.io/e/paranormal-mysteries/register to register.)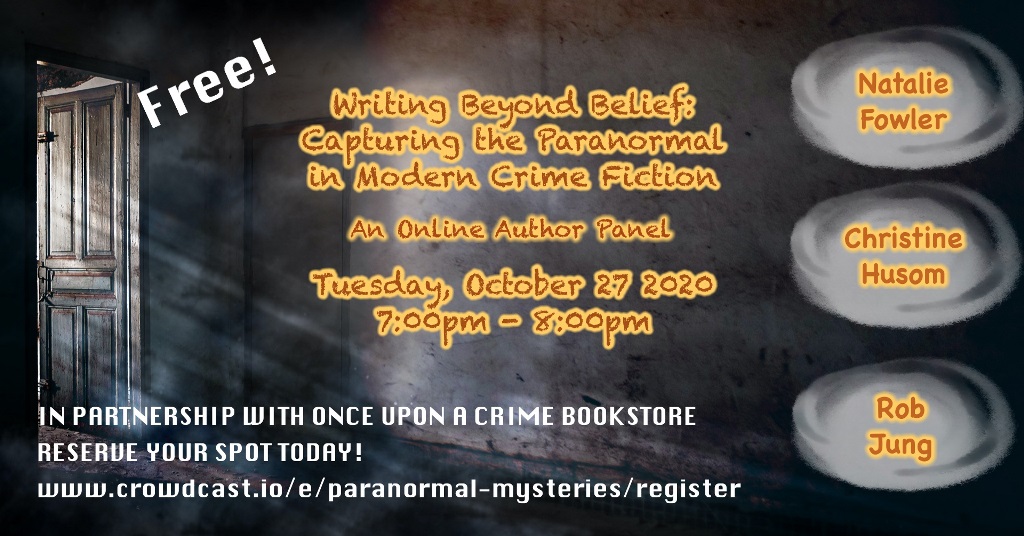 We'll round off the month by participating in the
Winsted Chamber of Commerce's Business Trick or Treat on Friday, October 30th from 4-6pm.
---
---