What are we digging this summer?
We're digging SUMMER READING!
And dinosaurs. And rocks. And Sidewalk Storytime.
Come join the adventure from now until Friday, July 31st!
Reading logs for Adults/Teens and 5-12's are available at the Winsted Library during normal library hours.
The We're Digging Dinosaurs & Rocks programs will be take-home kits for you to make and have fun with. Pre-registration is needed for those so that we know how many kits to make.
We aren't forgetting our Storytime family, promise. Instead of Storytime in the Park, we're doing Sidewalk Storytime! Every other week, we'll have a book in the front window of the library for everyone to read. Once you're done reading, you can pick up a take-home craft kit from the Curbside Pickup Cart to make something cool!
If you'd like to register for Summer Reading or for the We're Digging programs, you can stop by the library during normal library hours; call us at 320-485-3909; email us at winsted.staff@pioneerland.lib.mn.us ; message us on Facebook; or just holler at us on the street (this may or may not work)!
Are you ready for a DINO-mite Summer Reading Program?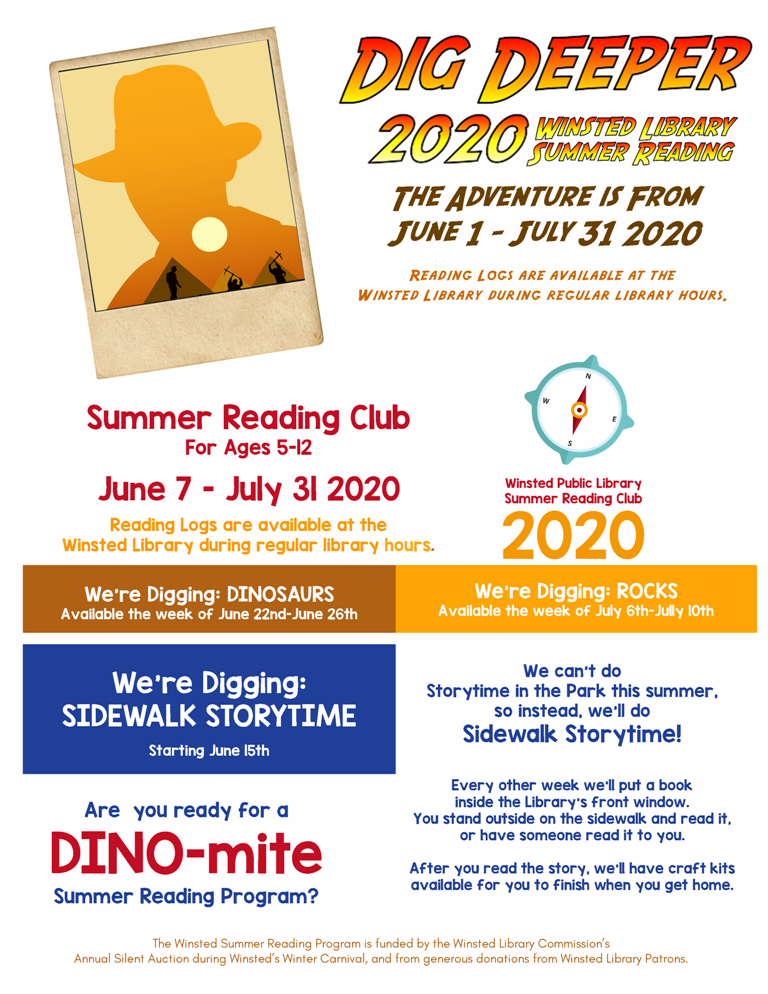 We're expanding Curbside Pickup from 2 days a week to 6 days a week!
Starting Monday, June 8th, you'll be able to pick up your holds via
contact-free curbside pickup during regular library hours Monday-Saturdays.
(Please give us up to 15 minutes after opening to get curbside pickup set up, though.)
Step 1: Place your holds using the online catalog at iii.pioneerland.lib.mn.us , or call us at 320-485-3909 and leave a message (if we're there, we'll actually talk to 

you too).

Step 2: Winsted Library staff will call you to let you know your holds are available, and are ready for pickup. You can then come get them during regular library hours.

Step 3: Contact-free Curbside Pickup is still the same set-up as before–items will be checked out, put in a bag, and put on the table just inside the exterior door, which will be propped open (unless it's raining, in which case the door will be closed, but unlocked).
*If you have items to return, please put them directly into the silver book return that is directly to the right of the entry door. We are still quarantining returned items, so it'll take up to a week to get things checked in and off your record.
*The Winsted Library building is still closed to the public, but library staff will be there during regular library hours to answer any questions or take your requests for library items.
*At this time we are unable to accept donations, so hang on to them, and we'll take them as soon as possible.
We know you miss coming to the library as much as we miss seeing all of you, so thank you all for your patience during this time. 
---
---