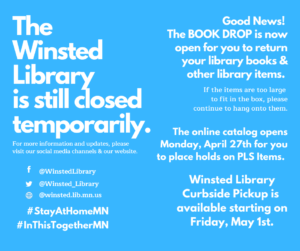 So, we have good news

😃

 x 3 and bad news 

☹️

.
Bad news: The Winsted Library building is still closed for now, and patrons can't come in to browse the collection themselves.

☹️
Good news: The Winsted Library Book Drop is open and ready for returns! Yay!

😃
GOOD news: Starting Monday, April 27th, the PLS online catalog will be reopened, and holds can be put on items to be sent to Winsted for you! 

😃

😃
GOOD NEWS!!!: Starting Friday, May 1st, contact-free CURBSIDE PICKUP will be available at the Winsted Library!

😃

😃

😃
We're still figuring out the specifics on what days/times curbside pickup will be offered, and for this week, curbside pickup will only be on Friday at scheduled times.
Thank you for your continued patience as we get this up and running!
---
---