The holidays have come and gone, and you know what that means…
It's time for our annual
WINTER READING PROGRAM!
Participating is easy–just sign up at the Winsted Library, and get your reading log to keep track of what you read from January 1st-March 15th. There are monthly challenges for you to try, or you can read what you want, in any format.
Just remember, the more you read, the more points you'll earn; the more points you earn, the more prize drawings you'll be able to enter!
Rules of Play
*Program runs January 1-March 15, 2019*
*1 book per line/category
*Audiobooks, eBooks, and Non-Fiction books are fine
*Double Points for Books 450+ pages
*Sheets must be turned in no later than Monday March 18th 2019
*Get 2 Points for participating in our "Spread the Love" Food Drive

Help Us Spread the Love in 2019!
March is Minnesota Foodshare Month,
and the time for their largest food and funds drive of the year.
This year, we're joining in with our first


Spread the Love Food Drive




from March 1-15, 2019.
To participate (and earn 2 points for your Winter Reading Log), simply bring in a jar of

non-perishable

food that can be spread, like peanut butter, jelly, honey, mayonnaise, mustard, relish, ketchup, barbeque sauce, or whatever you find.
And, if you're like us and have library fines,
bring in up to 3 more items, and we'll take up to $3 off your fines!
*Unfortunately, no home-canned items can be accepted.
*All items will be donated to the McLeod County Foodshelf.
*Winsted 2019 Winter Reading Program is open to ages 16+.
*Turn in your reading log by 5pm on Friday, March 15th to be eligible for the prize drawings.
*The 2019 Winsted Winter Reading Program is sponsored by the
Pioneerland Library System & the Winsted Library Commission.
Library After Hours Winter 2019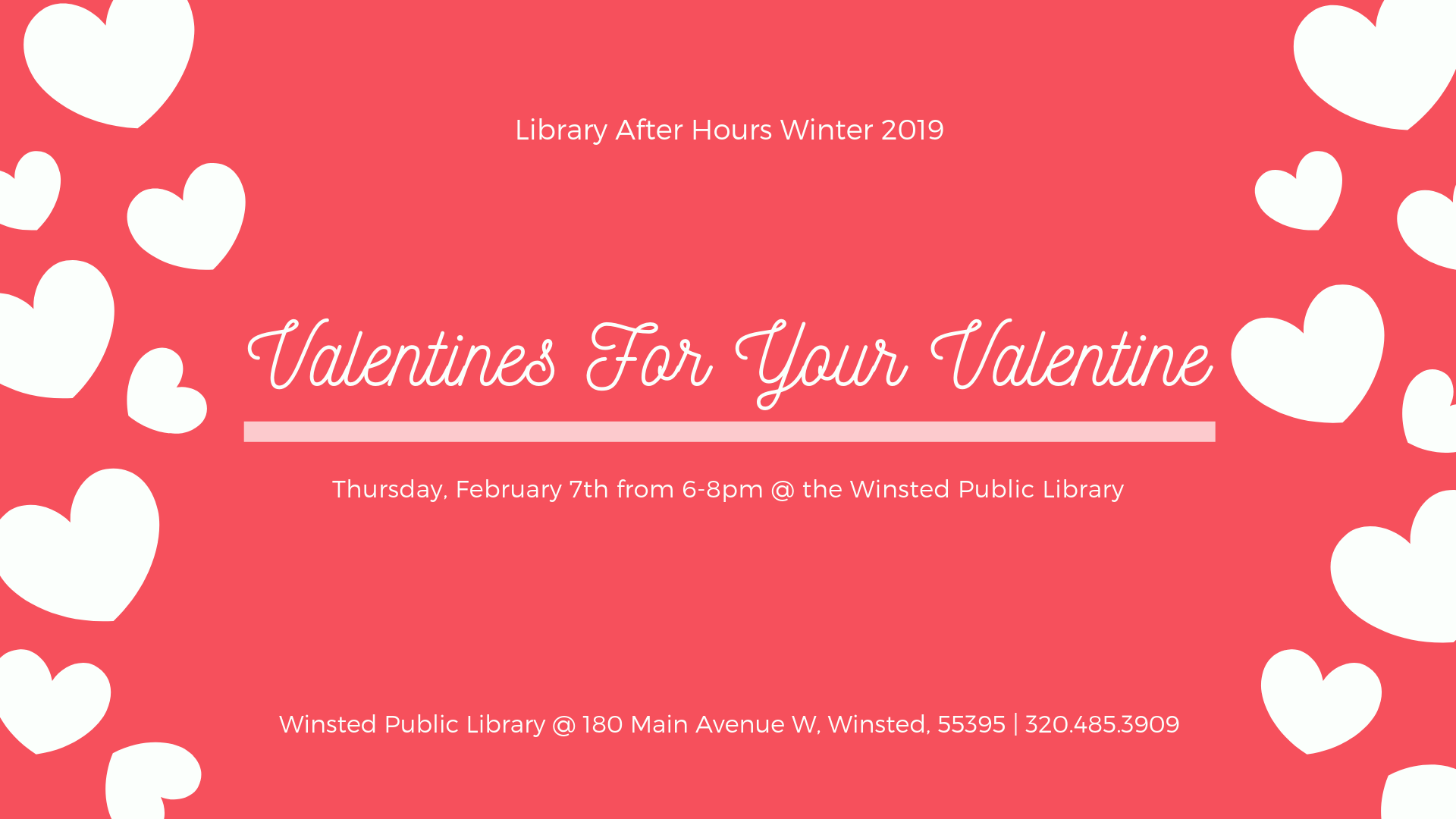 Come make 2 valentines for your Valentines at this Library After Hours session! We'll also learn how to make small gift boxes that are the perfect size to fill with some sweets for your Sweetie.
Space is limited to 15 participants, so register by stopping in at the Winsted Library, or by calling                       320-485-3909 to reserve your spot today!
Want to explore more reading challenges on your own in 2019?
Two of our favorite year-long reading challenges are from POPSUGAR and Book Riot.
For their reading challenge records, click on the pictures below.
 Happy Reading in 2019!
---
---